In our review of the year 2017 you will find a small overview of selected fka research projects and activities.
We will also be happy to answer any further questions you may have on the various topics.
HMI-concept 2020
uring the Aachen Colloqium visitors were able to experience the close interlinkage of different disciplines at fka, such as design, psychology, legislation and of course engineering. Developed and manufactured on behalf of ZF Friedrichshafen AG, Concept 2020 shows how easy interaction between driver and vehicle can be, despite highly complex automated functions. Focusing on the user during the development process, fka developed an innovative interaction concept, supporting safe and comfortable vehicle operation.
Jan Bavendiek, M.Sc.
Read more about our vehicle concept competencves.
Cooperation with NVIDIA –disruptive technologies
Disruptive technologies offer great potential for changes and innovations. In the field of E / E architectures, GPU computer architectures could enable a variety of new application fields, e. g. with respect to usage of neural networks and algorithmic structures. One of fka's trajectory planners, a GPU-based solution, has been migrated from PC-based implementation to the NVIDIA DrivePX2 as part of further development and system evaluation of GPU computer architectures. Trajectory planner and first performance results were demonstrated together with NVIDIA at the GPU Technology Conference in Munich.
AI/ML for the automotive industry
In recent years more and more methods from the field of artificial intelligence (AI) and especially machine learning (ML) have found their way into the automotive industry. A trend to which fka contributes with current research. Due to this, 2017 led to the realization of a multitude of applications. These reach e. g. from the extension of data with (semi-)artificial information to the modelling of different traffic participants – for both simulation and utilization in driving functions – as well as object detection and classification from images (running on NVIDIAS PX2-platform) for automated driving.
Peter Gronerth M.Sc.
Read more about our driver assistance competences.
Evaluation of lightweight design concepts
The growing variety of lightweight design applications and constantly reduced innovation cycles require an early evaluation of the potential of new concepts. 2017 fka enhanced the holistic potential appraisal, which not only includes the impact on a vehicle's energy consumption on full vehicle, system and component level, but especially the analysis of innovations across their entire life cycle. Therefore, we combine our holistic assessment of potentials with our wide range of experience concerning CO2 and emissions to optimize your company's lightweight design strategy.
PEGASUS mid-term-meeting
rom November 8 to 10, the half-time event of ­PEGASUS took place in Aachen, where the interim results of the project were presented and many international experts for automated driving were present. Two years ago, the project, funded by the German Federal Ministry for Economic Affairs and Energy (BMWi), started to develop methods and tools for safety assurance of conditional automated driving. As a central element of this methodology, fka is creating a database of relevant scenarios that will considerably reduce the required testing effort for the release of automated driving functions.
Dr.-Ing. Adrian Zlocki
Learn more about the PEGASUS project.
fka continues expansion course
In 2017 fka continued its steady growth rate. Thanks to a plus of more than 20 % of employees and various R&D-partnerships, fka could exceed its previous year's revenue already in October by more than 16 %. The substantial investments, for example in testing infrastructure like the new Flat-Trac, underline fka's growth ambitions. Considering the continuously high demand for R&D solutions, fka looks forward to a busy year 2018.
Besides the positive economic development, fka also achieved sporting successes. The team of 20 runners reached the 2nd place in the Aachener company run with more than 2000 other participants. And at the company's annual family party the department teams fiercely competed for the soccer trophy, which in the end was won by the chassis team.
Concept vehicle BEE
The vehicle concept BEE (Balanced Economy and Ecology mobility concept) demonstrates how Continental's team of developers envision the safe, clean, intelligent and connected mobility in the city of the future. Continental was supported by fka in defining and developing the requirements, the technical concept and the design of the BEE. The result of this cooperation is an innovative mobility concept designed for one or two adults and providing stress-free, comfortable and individual city travel. The autonomous and electrically driven BEE reaches a speed of 60 km/h and can be in use for more than 350 km every day.
Dipl.-Ing. Sven Fassbender
Learn more about our vehicle concept competences.
fka Silicon Valley
Since its foundation in 2015 and the grand opening of the first publicly accessible driving simulator in Silicon Valley, fka SV works closely together with companies dealing with cutting-edge technology setting trends in future mobility. Hosting monthly meet-ups not only enabled the vital interaction with established Silicon Valley players and startups, but also significantly expanded the field of activity of fka SV as a pioneer and expert in the field of (driving) simulation. In addition, the portfolio was expanded also to include project management support services for startups. The research aspect was also successfully advanced so that in 2017 two master's theses could be successfully completed.
Realization of synthetic driving sound in the research vehicle SpeedE
To increase the audibility of electric vehicles for vulnerable road users (VRUs), acoustic vehicle alerting systems (AVAS) that emit synthetic driving sound will be mandatory from 2019 onwards. In order to facilitate the design of synthetic driving sounds, fka is constantly developing a real-time sound design environment. This year, the system consisting of control unit, amplifier and loudspeakers was installed in the innovative SpeedE research vehicle and presented at the Aachen Acoustics Colloquium. The SpeedE will be used in future studies on target sounds, which will enhance the noise reduction potential of electric drives while emotionalizing the driving experience.
Thomas Böttcher M.Sc.
More about our research vehicle SpeedE.
More about our acoustic competences.
Enhanced testing capacities
In 2017 the testing capacities for the analysis of bodies-in-white and body components were extended again. The measurement technique at the big drop tower (10 m height) was extended by a 2D point tracking system and the crash sled by 6-axial load cells, for instance. The outdoor crash test facility allows the execution of dynamic analysis of electric vehicles and battery packs. With these extensions it is possible to validate the simulation methods for materials and joining techniques as well as the crash simulations of body components more precisely. Thus, the holistic development starting from the generation of material cards up to the full vehicle crash testing can be offered now.
NVH simulation regarding chassis noise phenomena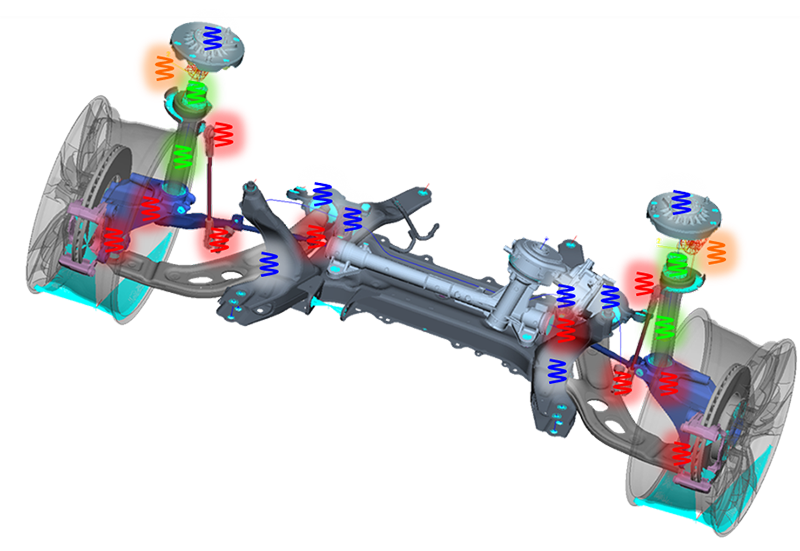 The increasing electrification of drive trains causes an intensified perception of chassis noise phenomena. Therefore, the acoustics department uses innovative simulation methods in order to predict the NVH properties of chassis components and entire axles in an early stage of the development process. These methods include FE and MKS simulations of noise and vibration transmission as well as analytical modeling of potential noise sources. Modular or hybrid approaches using a combination of different simulation methods or experimental analyses are established methods in the solution process.
Dipl.-Ing. Jan Hendrik Elm
Learn more about our acoustic competences.
Fail-operational power networks
As a key of future and especially automated vehicle systems, fka in cooperation with ika has declared the topic of safe, fail-operational energy supply systems to be a highly relevant target for the electrical and electronic development. The safety of the operation, in particular for safety-critical consumers, depends on a variety of factors in different operation scenarios. Often investigated in the past but without an established solution is the detection and protection against electric arcs. With regard to the further development and validation of 48 V and HV networks and their functions, the establishment of a system for the systematic generation of electric arcs in the energy network has created an important element for the further development activities.